Exhibitor Testimonials
"The Facilites Management Expo is one of my favorite industry events of the year. The guests are high quality and are very receptive to information."
Emily McNulty, Marketing Mgr., SERVPRO of the Southtowns
---
"I thought the show was great overall; probably one of the most productive shows I do."
Jim Schriber, Regional Sales Mgr., Duro-Last Roofing, Inc.
---
"Great opportunity to meet with potential customers and interact with existing customers to strengthen our relationship…"
Peter Easton, President, A-1 Concrete Leveling
---
---
"As a relatively new company with new technology we feel this exposure is important - both for new lead generation and having the opportunity to chat with current customers. In addition, we find it valuable to connect with allied trade partners who are exhibiting with us ."
David Gordon, Green Building Partners, LLC
---
"We thought the show had a fantastic turnout and even better, we had some really great opportunities for follow-up with customers after the show.
Scott DePaolo, HJS Supply Company
---
"This was the best show we have participated in. Every year for the past 4-5 years, the show has been getting better. The quality of attendees has been improving."
Frank Guido, The MJA Company
---
"Every year we meet a variety of new people attending the show and it's good exposure."
Rose Vohwinkel, Sales, S.J. McCullagh, Inc.
---
"The FM Expo is an extraordinary event for our company. Decision makers attended and brought us opportunities for the future. We received referrals and gave referrals to others. Now a 'must go' vendor event for us!"
Krista Goldsmith, Bison Fleet Specialists
---
"The FM Expo was well thought out, organized and professional. Great atmosphere to meet potential clients."
Sara Foutz, Sales, National Overhead Door
---
"Most leads/appointments we've ever had in 7 years of attending the show."
Tim Thomas, Sales Manager, Q Ware
---
"The show is a great way to network and build a larger client base."
Christina Sobczynski, Sales, Sherwin-Williams
---
"Very good investment."
Marty Malinowski, Synacom Networks Inc.
---
"This show is the only one we participate in annually. It allows us to see our current customers as well as giving us the opportunity to meet new potential customers that we might not ever get a chance to showcase our products."
Larry Ash, VP, United Thermal Systems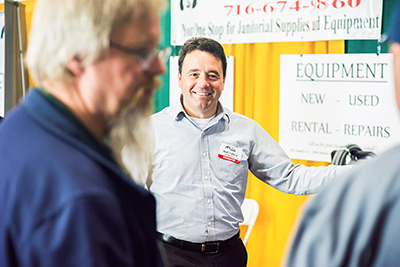 PRE-REGISTER TODAY!

Advance online ATTENDEE registration for Express Lane at show! Free Admission.
Wednesday, October 23, 2019
Show Hours 10:00 am - 4:00 pm