Exhibitor Testimonials
"Great opportunity to meet with potential customers and interact with existing customers to strengthen our relationship…"
Peter Easton, President, A-1 Concrete Leveling
---
"I have done over a hundred tradeshows in my short career, and this was one of the best organized, delegate friendly and pleasant to exhibit at shows I have attended. Everything from the venue, ease of participation, layout, foodservice…great show!"
Elle Robillard, Director of Sales & Marketing, Ameristeam LLC
---
"Very easy to navigate – more quality visitors."
Ashleigh Curry, Marketing, Buffalo Energy
---
"Always a worthwhile experience. The quantity of attendees could have been higher…but the quality was good."
Larry Mietus, Business Development, Indoor Air Professionals
---
"Great place for local facilities managers to meet local solution-providers."
Dennis Schultz, Account Executive, Johnson Controls
---
"Great way to put face to some of our customers. Lots of relevant exhibits."
Karen Trimper, Sales, Kraftwerks
---
"The quality of attendees seemed better for us and we did receive a few really solid leads/prospects."
Jessica Blackmer, Marketing & Communications Director, Lehigh Construction Group, Inc.
---
"This is a good show with a great selection of vendors and draws in quite a significant amount of attendees."
Rose Vohwinkel, Sales, S.J. McCullagh, Inc.
---
"I felt it was worth my while to be there as I got some leads."
Jack Frost, Marketing, NYSEG
---
"The FM Expo was well thought out, organized and professional. Great atmosphere to meet potential clients."
Sara Foutz, Sales, National Overhead Door
---
"Most leads/appointments we've ever had in 7 years of attending the show."
Tim Thomas, Sales Manager, Q Ware
---
"The show is a great way to network and build a larger client base."
Christina Sobczynski, Sales, Sherwin-Williams
---
"Very good investment."
Marty Malinowski, Operations Manager, Synacom Networks Inc.
---
"This show is the only one we participate in annually. It allows us to see our current customers as well as giving us the opportunity to meet new potential customers that we might not ever get a chance to showcase our products."
Larry Ash, VP, United Thermal Systems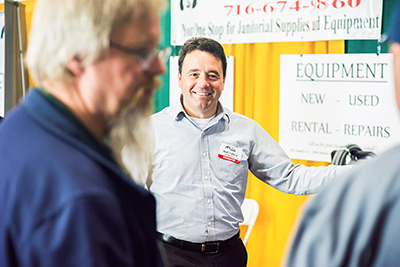 ON-LINE EXHIBIT APPLICATION!

Apply on-line to reserve exhibit space!
Reach target audiences, with face-to-face interaction with your potential new customers!
Wednesday, October 17, 2018
Show Hours 10:00 am - 4:00 pm
PRE-REGISTER TODAY!

Advance online ATTENDEE registration for Express Lane at show! Free Admission.
Wednesday, October 17, 2018
Show Hours 10:00 am - 4:00 pm